Works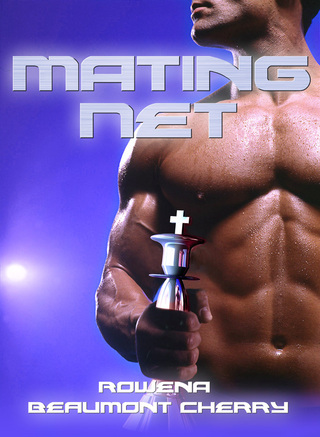 Helispeta wanted to marry well. Very well. The Prince who was second in line to the royal throne was good enough. He was a military hero, honorable, sexually sophisticated, and a nice guy.... unlike his older (by seconds) twin brother.
The older twin, the god-Emperor Djohn-Kronos was arguably more dangerous than the British King Henry VIII. He was rumored to have killed his father, married a child bride, started an intergalactic war, and ordered the assassination of a crippled enemy head of state.
Read the first chapter online at New Concepts Publishing at

ISBN 0-505-52601-8

Checkmate

The truth could wait. She had given him an idea...

Sex was a serious matter, a grim pleasure, or so he'd always thought. It had never been an occasion for laughter or irreverent conversation–until Djinni accused him of fishy mating habits, and since then he hadn't taken sex seriously at all.

Lovemaking had never been such fun. Much as he'd longed for her to know and accept the truth about him, he didn't want this blissful intimacy to end.

The truth could wait. She had given him an idea. A very wicked idea. A perfect excuse for the remaining rut-raged days and nights of debauchery and deception to come.

"I want to do it all," he breathed. "I want to make love to you according to the ways of every sexually reproducing species in all the Communicating Worlds. Every one. From frogs to Great Djinn. After that, we'll work up to thrusting Tantric sex."

"Oh, Stars," she gasped.

"And I take that as informed consent."

Reviews

"A total hoot... one of the best and funniest Sci-Fi Romances I've read."
–Linnea Sinclair, author of Finders Keepers

"Forced Mate is a highly unique, funny and sexy read. FOUR STARS."
–Jill M. Smith, Romantic Times

"5 Stars! Well done and very romantic... a true page turner!"
–Cindy Lynn Speer, Affaire De Coeur

"This futuristic romance is one that you won't want to miss!"
–Cy Korte, eBookIsle.com and PNR Reviews

"5 Blue Ribbons. Forced Mate is one of the best science fiction romances I've read all year."
–Nicole Hulst, romancejunkies.com

"5 Roses! Forced Mate absolutely ROCKS!"
–Brenda Thatcher, EscapeToRomance

"I read a lot of books because I review them, but I only really like about one out of every 4-6. Three books are sitting on my table half read right now because I can't put Forced Mate down!"
–K C Heath, yetanotherbookreview.com

"Great story with a twist on the Alien abduction Theme! If you decide to read Forced Mate, get ready to have your nose glued to the pages for a little while, as I couldn't put this story down!"
–Cynthia Lovett, PNR

"5 Angels! Rowena Cherry has crafted a fantastic tale of political intrigue, action, and humor that had me whipping through this 320 page novel in one night. I laughed so hard I cried."
–Izzy, Fallen Angel Reviews


AWARDS WON BY Forced Mate

2006 Eppie Finalist
2005 PEARL Finalist
2005 PEARL Awards, Finalist
2005 Affaire De Coeur Readers/Reviewers Choice Awards, Finalist
2005 Desert Rose Golden Quill Awards, Finalist
2005 Beacon Awards, Third Place
2004 JADA Press Book Of The Year Awards, Honorable Mention
Winner of its category in the
Hollywood Book Festival Awards
, the
Fantasm Awards
, the
Night Owl Romance Awards
, the
Cupid and Psyche Award
.... And more
Reviews
"
Insufficient Mating Material
is a strong, intelligently written book that carries on this futuristic history. Ms. Cherry wrote a provocative well-described story of love, betrayal and survival. Laced with sarcasm, irony and humor, this book has a provocative plot."
—Just Erotic Romance Reviews
"
Insufficient Mating Material
is a powerful romance laced with devastating family secrets, treachery and a sizzling passion hot enough to singe your fingers as you turn the pages."
—Romance Junkies
"Those of you who enjoy a lot of spice in your space opera, such as I do, will find yourself backtracking a few times and rereading various sections. If you do not like hot, steamy, memorable flavors in your tea, I suggest you pass the kettle on to someone who does. Excellent adventure and highly recommended! ***** "
—Detra Fitch, Huntress Reviews
"I could NOT stop reading, and I don't say that lightly. Something about being... so... FUN!"
—Em Sky, mindunbound.com
"Not just anyone could write this type of book and have it come across as believable. Rowena's has accomplished that and much more. A great read. A fun book. I'd highly recommend IMM to my friends."
—LuAnn Morgan, WRDF

ISBN 0-505-52740-5
ISBN 978-0-505-52740-0

"Carpe Scrotum. Seize Life by the Testicles."
–Electra-Djerroldina

The Queen Consort of the Volnoth needs a sperm donor, and only one green-eyed god has the right stuff. Little does she know she has pinned all her hopes on the crown jewels of the fabled Royal Saurian Djinn. Not only is he the son of her greatest enemy, but he has taken a vow of chastity.

"When forced to choose between two evils, pick the one you've never tried before.... SEX."
–Rhett

The Saurian Knight is caught between a problem father who has all the moral integrity of a Mafia Don, and a married Princess who would stop at nothing to have his seed in her belly. No matter which way he turns, he's "forked."

"Why would a male both hope for and fear a lover? ...Ah! Inexperience perhaps?"
–Tarrant-Arragon

Taking the wrong lover...in the wrong place, at the wrong time...is dangerous. And when the High and Mighty intervene, it can be fatal. Can true love and a pure White Knight's virtue triumph, when society loves a right royal scandal?

Synopsis:
Knight's Fork is a futuristic romance which combines a traditional quest story (loosely based on the Greek hero Perseus) with a romance around the issue of genetics and the royal need to breed.

A Princess from a "superior" race was married to an alien Prince as living proof of a political alliance. At the time of the marriage/peace treaty no one thought that the Prince would become King of his people, and that an heir would be necessary. After many fruitless years, the Queen (as she now is) realizes that her only hope of keeping the peace is to find a sperm donor from her own race who has the same eye color as her alien mate's, whom she can trust, and who is not too closely related to her.

When he says "No!" the stakes are too high for her to give up.

Rhett is an ambassador and a knight who has taken vows of chastity and purity. Everyone believes that he is "too good to be true" and that he must have a sordid secret, a chink in his moral armor. His own world gets too hot, so he jumps at the chance to go on a year-long quest to uncover or else lay to rest a buried skeleton in the family closet. Little does he know that there is a stowaway aboard.